Godzilla vs Podcast Zero - The Son of Godzilla with Mike Mitchell
Tuesday June 11th 2019
The amazing Mike Mitchell from the Netflix series Love and co-host of the podcast Doughboys joins us for a look back at The Son of Godzilla. In what may be the most anti-bullying-PSA movie of Godzilla movies, it's the tale of Minilla, a baby boy who looks like an old man. He's immediately bullied upon being born, poked and prodded and beat up by giant praying mantises. We also see the first appearance of Kumonga, a giant-ass spider that you also see make a cameo appearance in Godzilla: The King of Monsters (in theaters, go watch it now). The Godzilla suit for this movie is reportedly the biggest in size. Probably because they needed it to look bigger next to Minilla, played by Marchan the Dwarf for his ability to do flips and jumps in the suit.
Here's Minilla's disappointing attempt at blowing fire. Godzilla threatens to hit him for doing it wrong (see thumbnail):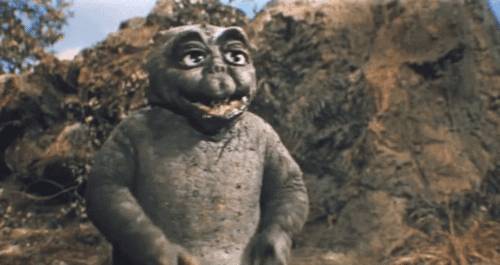 And we got some more amazing art from Thomas Perkins, this time he drew Kathulhu, the Kaiju inspired by our guest, Jordan Morris, in the King Kong vs Godzilla episode!
Hey Folks, here we have a stab at Kathulhu, a Kaiju inspired by @Jordan_Morris from his apperance co-hosting on the @zero_godzilla podcast with @maddoxrules , @HaleyMancini and @jayhasrajani as they discussed "King Kong versus Godzilla" Cheers! #coolpodcasts #kaijufilms pic.twitter.com/xqcza2bVXH

— Thomas Perkins (@TNPerkins4) June 7, 2019
Jay Hasrajani couldn't give us his take this week, but there's lots more to come. Tune in next week!
Follow the show and send your art & tweets to: @zero_godzilla
The voicemail number is: 1-562-58-I-RULE (1-562-584-7853).
Godzilla and all character designs featured in all Godzilla movies Copyright 1955 Toho Co., Ltd and are trademarks of Toho Co., Ltd.