Godzilla vs Podcast Zero - Godzilla vs Mechagodzilla with Sam Richardson
Tuesday May 28th 2019
The amazing Sam Richardson joins us for a retrospective of Godzilla vs Mechagodzilla (1974). This is the first appearance of Mechagodzilla of the four incarnations. Created by aliens from "Black Hole Planet 3" to destroy Godzilla (hah, the fools), it had a bonkers amount of offensive arsenal, including finger missiles, toe missiles, laser vision, electric chest bolts and it can turn its head 180 degrees. Plus he knows kung fu. We also see Anguirus get its jaw broken by Mechagodzilla, so right out the gates Mecha is a badass. We eventually have a final showdown with King Cesar, an ancient guardian in Okinawa.
Plus we have more groovy 70s aliens, very heavily inspired by Planet of the Apes: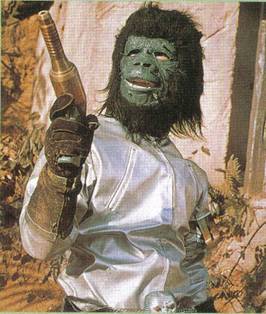 Could there be more song and dance (literally) for King Cesar? There's more ritual than Mothra with less pay off. This could be up for debate, but I'm probably right.
Jay Hasrajani called in while skydiving(?) and gave us his take. Even Jay noticed how violent this movie was. One of the rare occasions where Godzilla gushes blood.
Follow the show and send your art & tweets to: @zero_godzilla
The voicemail number is: 1-562-58-I-RULE (1-562-584-7853).
Godzilla and all character designs featured in all Godzilla movies Copyright 1955 Toho Co., Ltd and are trademarks of Toho Co., Ltd.