Godzilla vs Podcast Zero - Godzilla vs Biollante - Lindsay Carrozza
Tuesday July 23rd 2019
Godzilla vs Biollante (1989) is the movie we look at this week with the amazing artist and character designer from Mighty Magiswords, Lindsay Carrozza. Biollante is one of the coolest and creepiest monsters in the Godzilla universe. The monster is part rose and part octopus. The puppetry alone is mind-boggling. Really great miniatures and pyrotechnics too. Plus it's chock full of goofy dubs at the beginning of the movie, which taper off for some reason near the end. We also brought in some of the poll results we've been doing on this show, as well as voicemail at the top of the show. Here's some of the amazing puppetry they rigged for this movie: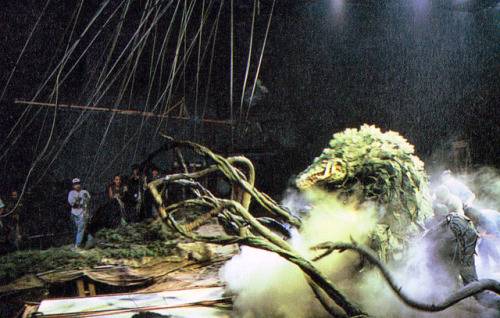 Plus Haley prank calls Jake Goldman from our Gigantis the Fire Monster (Godzilla Raids Again) because we suspect he's cheating on us with Gamera.
And finally, I came up with a Kaiju of my own and Thomas Perkins did an amazing interpretation of it. This is so badass! Thank you Thomas:
Hey Folks, Here we have a stab at Daikaiju Desert King Maddoxidorah, a Kaiju inspired by the @zero_godzilla podcast host @maddoxrules who along with @HaleyMancini and @jayhasrajani discuss Godzilla flims. They are all kinds of fun! Cheers! #coolpodcasts #kaijufilms pic.twitter.com/LO0oGqdRFj

— Thomas Perkins (@TNPerkins4) July 5, 2019
Keep that artwork coming!
Jay Hasrajani notices the gore in this movie and thinks Godzilla is sort of a jerk in this movie. He also thought Biollante was gross (but cool) but gross. The miniatures were also noteworthy to Jay. He's right!
Follow the show and send your art & tweets to: @zero_godzilla
The voicemail number is: 1-562-58-I-RULE (1-562-584-7853).
Godzilla and all character designs featured in all Godzilla movies Copyright 1955 Toho Co., Ltd and are trademarks of Toho Co., Ltd.