The Best Debate in the Universe - What is the perfect movie? J Todd Anderson
Monday February 25th 2019

Debate starts at: 20:45. What is the "perfect" movie? Storyboard artist and director J Todd Anderson joins us for the debate this week. J Todd is the storyboard artist for "The Big Lebowski, No Country For Old Men," and every other Coen Brothers movie since "Raising Arizona." He's a treasure-trove of movie knowledge and he's giving away a copy of his new book, The Big Lebowski: The Official Storyboards! Just leave a haiku in the comments below, or on the Madcast Media Facebook page, or on my Maddox page. Watch the video version here at Madcast Media Network YouTube channel
Ron Babcock has a tip this week that makes your mouth fresher. Good luck! My mouth is as fresh as it gets 100% of the time, even after I eat garlic and box, which is always. Tonge scrapers?! I think my brush does a good enough job. What do you think? Leave a comment or voicemail (1-562-584-7853).
And here's my newest book, F*ck Whales: Petty essays from a brilliant mind: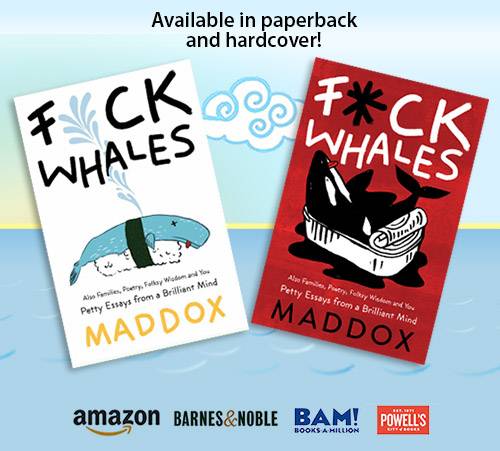 And finally we round out this episode with a story about AI fastfood workers. The long march towards turning fastfood into a vending machine is happening. Congrats, idiots!
The voicemail number is: 1-562-58-I-RULE (1-562-584-7853).