The Best Debate in the Universe - What's the most garbage breakfast food? Captain Dirk, Kirk Wilcox
Monday April 22nd 2019

Debate starts at: 7:07. What's the most garbage breakfast food? Our own Captain Dirk joins Kirk Wilcox for the debate this week about the stupid shit we shovel in our mouths the first thing in the morning. Ron has a problem with cold lumps in his mouth, and while I didn't get a chance to offer some warm lumps for him on the air, the offer still stands. Dirk is an amazing talent from Madcast Media who does the Super Arrogant Bros podcast. It's rare to hear a podcast of such high caliber, especially anything gaming related. Give it a listen. Watch the video version here at Madcast Media Network YouTube channel
Ron Babcock has a great tip for people who want to dispatch of bugs individually in their apartment: a vacuum cleaner. I have to admit, it makes you feel like a badass. Leave a comment or voicemail about the tips if you try them (1-562-584-7853).
And here's my newest book, F*ck Whales: Petty essays from a brilliant mind: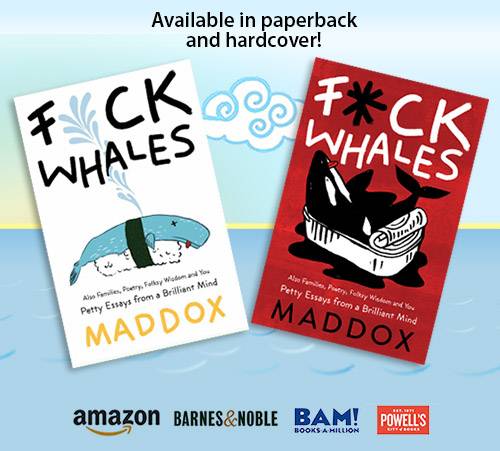 No news this week to keep the episode tight, but more coming soon. Leave a voicemail below. If you're international, you can send a clip on Facebook. Join Maddox University: For Geniuses and Babes who are Geniuses ONLY.
The voicemail number is: 1-562-58-I-RULE (1-562-584-7853).