The Best Debate in the Universe - What's the most bullshit-ass hobby for your bullshit-ass life? TJ Peters, Dreadmere
Monday March 11th 2019

Debate starts at: 24:47. What's the most bullshit-ass hobby for your bullshit-ass life? TJ Peters and Dreadmere join us for the debate this week. We discuss which bullshit-ass hobbies are the worst and quickly come to a consensus that they're ones where you want to be seen doing them. I also talk about almost drowning in my first-ever water park in Orlando. And a summary of my Playlist Live trip. Plus we read some of your haikus from last week, Facebook comments and a shit-ton of voicemail. Packed episode, we couldn't even get to the news. Watch the video version here at Madcast Media Network YouTube channel
Ron Babcock has a tip that'll leave you swole. You, not me, as I'm already the most swole a man can get. Or a woman can get for that matter. Got tips? Leave a comment or voicemail (1-562-584-7853).
And here's my newest book, F*ck Whales: Petty essays from a brilliant mind: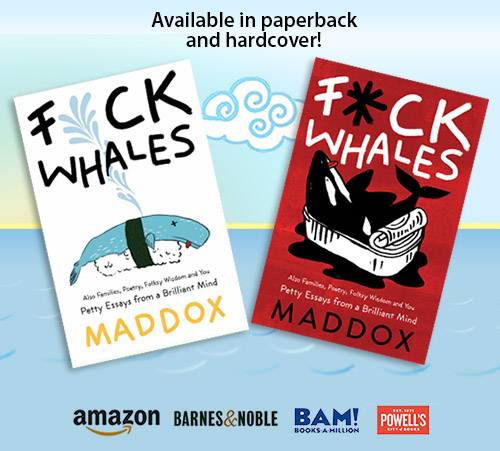 No news this week, but we had a top-heavy show about near-death in a water park, so it's a wash. More next week.
The voicemail number is: 1-562-58-I-RULE (1-562-584-7853).