The Best Debate in the Universe - WHICH IS MORE TRUSTWORTHY: ALTERNATE NEWS SITES OR THE MAINSTREAM MEDIA?
Monday October 24th 2016

This week, it's the guest you probably didn't see coming: Dylan Avery, the creator of the "Loose Change" documentary. Yes, that Dylan Avery, from what's most likely the #1 9/11 conspiracy documentary on the planet.
We had a very interesting discussion on alternate media compared to main stream media, as well as learning what happened after Loose Change exploded on the Internet. Plus a rare concession from Rucka when Ela Darling calls in to demolish the "idiot defense." Here's my video that I referenced in this episode:
We also talked about a story about a woman who brings a "comfort duck" on planes with her, plus mass-extinction is preferred to a Trump or Clinton presidency. And here's a big group photo of everyone from this week: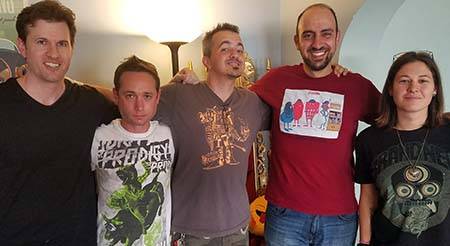 The voicemail number is: 1-562-58-I-RULE (1-562-584-7853).
TheLastAmericanVagabond - A big list of alternate news sites someone on Twitter sent me
Journalism.org - Pew Research study on where "millennials" get their news
NYTco - [PDF] New York Times guidelines on integrity
MSN - Woman says she took duck on plane for emotional support
UML.edu - 1 out of 4 Millennials would prefer a meteor strike to 2016 presidential candidates
"Mining by Moonlight" and "Music to Delight" by Kevin MacLeod (incompetech.com) Licensed under Creative Commons: By Attribution 3.0 http://creativecommons.org/licenses/by/3.0/